Our Special Dinning
Kokan as a place has lots to offer. From its 720 km long picturesque beaches to rustic yet mouthwatering food, you will take home vivid memories every time you visit kokan. As it is populated by different communities such as Koli, Aagri and Bhandari it has a varied culinary culture. Agriculture and fishing were the main occupations of the residents. But during the time of Chatrapati Shivaji Maharaj, Bhandaris were picked as cooks in the Maratha navy. It will not be wrong if we claim that the Bhandaris received recognition for their culinary variation from here. Soon the Bhandaris realised that their cuisine has started becoming popular amongst all. No wonder they took serving food professionally.

Later in future, when Mumbai was flourishing as the economic capital of the country. Mumbai's Dadar, Lalbaug, Parel and Girgaon area were known as 'Girangaon'. Giran is the Marathi word for mill and gaon stands for a village. These Girangaon's started attracting mill workers from different parts of the country towards it. This generated the need for good and quality boarding facilities. Bhandaris anticipated this need of the time and made all efforts to provide quality food at reasonable rates. Soon the Bhandari culinary style became very popular amongst mill workers. This is how Bhandaris became the first ever hoteliers of Mumbai.

As time passed, mills got wiped from Mumbai's skyline. Although the Bhandari food and its patron's love for it were still alive. That is why when Kokan gained its popularity as a tourist destination the Bhandari food was once received by everyone with great enthusiasm.

Today tourists come to Dapoli to visit Karde, Ladghar, Murud, Anjarle and many other tourists destinations but besides savouring the delicious flavours of Bhandari food is also always on their checklist.
We serve you the best of the Bhandari variety
Ukadiche Modak
Modak is an Indian sweet popular in many parts of India. The sweet filling on the inside of a modak consists of freshly grated coconut and jaggery while the outer soft shell is made from rice flour or wheat flour mixed with khava or maida flour.The modak can be fried or steamed. The steamed version called ukdiche modak. In India it is often eaten hot with ghee. The modak is the favourite sweet of the Hindu deity, Ganesha. It begets him the moniker modakapriya (one who likes modak) in Sanskrit.
Aamras Puri
Aamras is a popular desert or sweet from the state of Maharashtra (as like Ratnagiri Hapuse) Aamras is a summer delight in a bowl. Aamras is very popular in fact, in Mahaharastrian wedding served in the thali meal. TraditionallyAamras served with Pooris. But Aamras can also be had after a meal or as a sweet dish, dessert to just about at any time.
Sheera
Sajjige is a semolina based Indian sweet that originated in India. Several variants of this dish are available under other names in various parts of India. For instance, in Maharashtra, it is called sheera and in North India it is called sooji (suji) halwa. It is also served in Europe and United States as semolina pudding.Sajjige is served as a breakfast or a dessert item. The normal variety though is unflavoured and prepared with just semolina, sugar, ghee, and milk. It is also offered as a prasad during Hindu puja rituals, such as in the Satyanarayana Puja.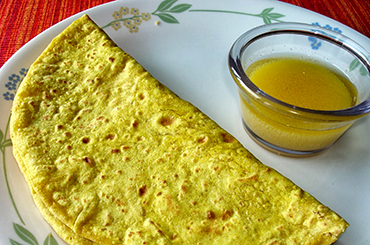 Puran Poli
Puran Poli is a traditional Maharashtrian sweet dish that is prepared during the festivals of Holi and Gudi Padwa (Maharashtrian New Year). Puran Poli is a paratha that is stuffed with a sweet lentil stuffing and is normally served with sweet Gujarati kadhi. Puran Poli offered to the Gods during the lighting of the customary Holi bonfire. The dish that is offered as food to the Gods it referred to as naivedya and that is what puran poli is for the Maharashtrians. The tradition is followed by Maharashtrians till date and puran poli is offered to guests the next morning, that is, the morning of the day of the main Holi.
Thalipeeth
Thalipeeth is a type of savoury multi-grain pancake popular in Western India.The dough is prepared from a flour called Bhajanee made from roasted grains, legumes and spices. The grains include rice, wheat, bajra, and jowar. Legumes added includes chaana and Urad. Coriander and cumin seeds are the preferred spices in making bhajanee. Onion, fresh coriander and other vegetables and spices are added when preparing the dough. Thalipeeth is usually served with white water buffalo milk butter, ghee or yogurt. The dish is very popular in Maharashtra.
Alu vadi
Alu vadi is a typical Maharashtrian snack/side dish made by stuffing colocasia (Alu/Arbi) leaves with a spiced multigrain batter and then steaming them. This is a quick and healthy recipe where the steamed vadis are shallow fried instead of deep frying them. Traditionally the leaves are stuffed with chickpea batter but this recipe uses multigrain flour to make the batter. Alu vadi or patrode makes for a tasty snack as well as a side dish.
Amboli
The Maharashtrian Amboli is a unique pancake made of a quick and easy rice flour batter. It takes just a few minutes to mix the ingredients into a batter and there is no need to ferment either. The secret to getting the perfectly-textured Amboli lies in the consistency of the batter, which must not be very thin or thick. If you get the batter of a proper dropping consistency, you will get nice and spongy Ambolis. Serve it hot, because rice flour tends to get chewy over time.
Valachi Usal
Here is a tongue-tickler from the Marathi culinary files! Dalimbi Usal, a traditional accompaniment to rice and rotis is made by cooking field beans with a traditional tempering, tangy kokum and everyday spices. Jaggery creates a nice sweet and sour effect, while other ingredients like ginger, onions and coriander add their peppy touch to this Maharashtrian vaal preparation. You will notice that this dish uses a lot of coriander, and not just a sprinkling of it. This is essential to improve the aroma and flavour of the vaal usal.Serve along with Chawal Bhakri , Methiche Varan , Dodkyacha Bhaat and Shrikhand for a lip smacking and delicious meal.
Kajuchi Usal
Kaju chi Usal or cashew curry is a traditional Maharashtrian recipe made with the fresh and scrumptious cashew nuts and coconuts available plentifully in the Konkan coastal belt.As kaju or cashews are available in summer, this can be a summer special too.